Stretching helps boost blood circulation, which eases stiffness and tenderness of your muscles, two of the most common symptoms of fibromyalgia. Moreover, stretching can also help to boost your coordination and stability. Here are some stretching exercises for fibromyalgia to help manage and improve pain.
Side Bend
Simply stand on your feet, shoulder width apart and inhale. Bend slowly to the right and stretch your left arm overhead while resting your right hand on your right thigh. Hold for one second and return slowly to upright position. Repeat the same exercise in opposite direction.
Shoulder Rolls
Stand with your shoulders relaxed, while both arms are on your sides. Straighten your body and slowly roll your shoulders up going towards your ears then backward. Relax your neck and then gently roll your shoulders forward in order to return to the starting position. Do ten repetitions of this exercise.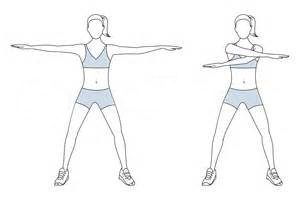 Huggers
Stand with your feet shoulders apart and your arms open wide, both stretched out as if asking for a hug. Then, slowly wrap your arms around your upper back in a hugging motion, with your right arm above the left. Extend your arms as far as you can and hold for a few seconds. Repeat the steps with your left arm above your right arm. Do ten repetitions of this exercise.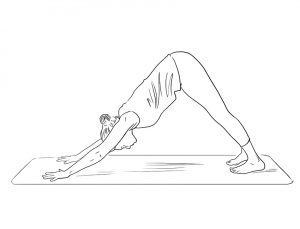 Downward Facing Dog
For this exercise, go down on your hands and knees on the ground. Your hips should be in line with your shoulders and knees and hands. Slowly pressing through your hands, lift your knees gently off the ground and straighten your legs, while pushing your butt into the air at the same time.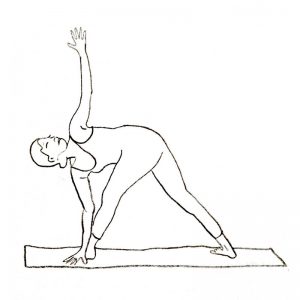 Kneeling Triangle Pose
Step your left foot forward and then bend both your knees into lunge. Slowly lower your right knee towards the ground, keep your left knee right above your ankle. Gently raise your left arm over your head. Then bend towards the right and touch your right hand into the ground, allowing your side to stretch. Hold on for up to ten seconds before you return to the start.
These stretching exercises for fibromyalgia, when done regularly, help to relieve muscles stiffness and pain. If you find that any of the moves above is uncomfortable for you to do, do not force yourself. Approach a professional trainer to avoid any injuries.
Like what you read? Pass it around: